Officials with the Broadmoor Pikes Peak International Hill Climb, sponsored by Gran Turismo, couldn't wait to announce that spectators will be welcome on the mountain once again for the 2021 race.
Last year, Covid-19 protocols prevented onlookers, except for media and those connected to race teams, from attending. Covid also affected the number of entries, which were down significantly.
"We couldn't be more excited to welcome spectators back to America's Mountain in June. And our competitors will be thrilled to have the best motorsport fans in the world cheering them on."

Megan Leatham, executive director of the event
There were just 44 entries in 2020, down from 85 in 2019. Race entries were also affected last year by the deletion of the motorcycle category after the death of Carlin Dunne, who died after his motorcycle left the course and was flung down the mountain.
For 2021, there are 63 racers entered.
Due to the global impact of the COVID-19 pandemic, nearly all of the international competitors were forced to withdraw their entries last year due to travel restrictions in place at that time, said Lisa Haight, race coordinator.
"We are really optimistic for the 99th Running in June as we currently have 65 drivers entered from nine countries," Leatham said.
Although spectators will be welcomed this year, other events that have been held in previous years will likely be cancelled again, as they were in 2020.
"Most likely, we will not be able to host our annual downtown street festival, Fan Fest, prior to the event, but we are monitoring the COVID restrictions daily and will make that decision closer to the event," Haight said.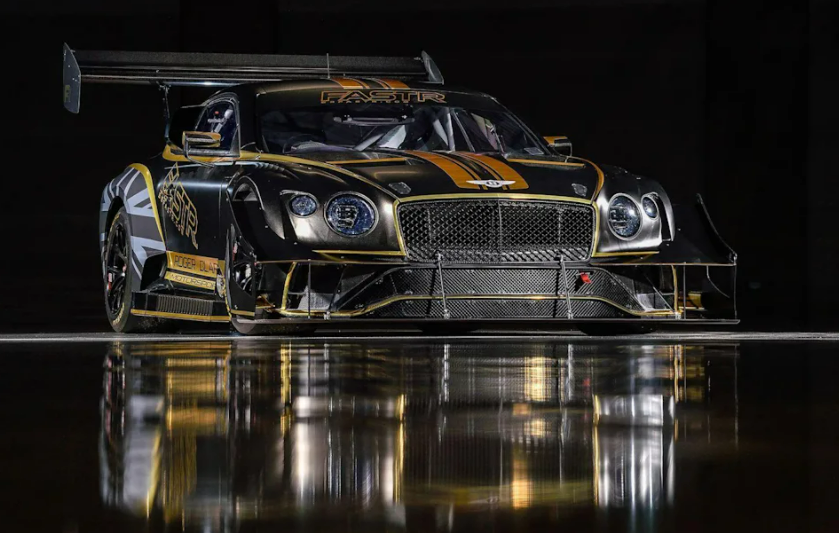 One of the most anticipated entries for this year's race comes from high-end carmaker Bentley.
The modified 2021 Continental GT3 racer, based on Bentley's race-and-championship-winning car, will plow its way through the 12.42-mile course running on a biofuel-based gasoline.
The vehicle is part of a "major new sustainability initiative … of a renewable fuels research and development program spearheaded by the most extreme road-car-based Bentley in its 101 year history," a company news release said.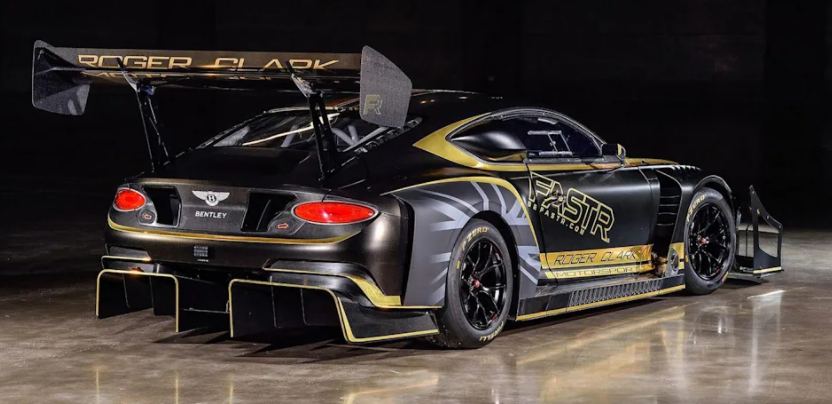 "The Continental GT3 Pikes Peak, designed and built to compete for the Time Attack 1 record at this year's Pikes Peak International Hill Climb, will be the first competition Bentley to run on renewable fuel, ahead of a goal to offer sustainable fuels to Bentley's customers around the world."
Another highly-anticipated entry is a 2019 Porsche 911 GT2RS Clubsport that will be piloted by reigning course record holder Romain Dumas of France.
"We're looking forward to welcoming Romain and his team back to Pikes Peak. It will be a real treat for our fans to watch him compete," said Megan Leatham, race executive director.
Dumas's racing history on America's Mountain began in 2012 when, as a rookie, he captured the Pikes Peak Open division behind the wheel of a 2012 Porsche GT3R, setting a new division record in the process. Three subsequent wins in the Unlimited division aboard his iconic Norma M20 RD Limited added three King of the Mountain titles to his world-class race resume.
In 2018, Dumas was back, this time behind the wheel of the all-electric Volkswagen ID. R.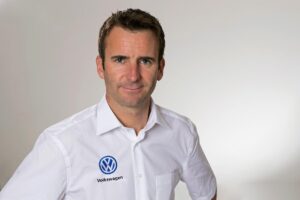 The former course record, 8:13.878, set by Sébastien Loeb and Peugeot just five years earlier, was shattered when Dumas laid down a time of 7:57.148 and established a new benchmark.
According to a news release, when asked about his return to competition on Pikes Peak, Dumas replied, "I am very happy to be back on Pikes Peak with Champion and Porsche. This is my first race with Champion, but I know them well from endurance racing. They are really motivated and excited to discover Pikes Peak."
Race week begins on Monday, June 21, with practice and qualifying. The green flag will drop at 7:30 a.m. on Sunday, June 27.
For a complete schedule of events, visit ppihc.org.
2020 RACE
COLORADO SPRINGs, Colo. – It's Aug. 30, 2020, on Pikes Peak, and frigid air has settled in at the 14,115-foot summit. As of 6 a.m., there's a thin sheet of ice coating the roadway's upper section, which twists around the mountain in a series of breathtaking switchbacks that carry thousands of tourists up each year.
But this morning, instead of family sedans and SUV's full of kids eager to browse the gift shop at the summit, dozens of race cars and trucks are awaiting their turn to best the stopwatch and become King of the Mountain.
This year is different from the previous 97 official times that The Broadmoor Pikes Peak International Hill Climb presented by Gran Turismo has been run. There are no spectators here today, only race crews, their drivers and a handful of close family members. All of this is due to the Covid-19 virus and the precautions racing officials are taking because of it.
As crews are busy making last-minute adjustments to their respective racing machines, race volunteers with shovels work alongside U.S. Forest Service employees with heavy equipment to clear the ice that's covering the last 1/8 of a mile immediately prior to the finish line.
The delay ultimately lasts more than two hours.
The wait time isn't bothering three-time Pikes Peak racer Scott Birdsall. His 1949, tube-chassis F1 Ford pickup with a 6.7-liter Cummins turbo diesel engine shoehorned into the front is sitting under a tent ready to haul ass at the starting line.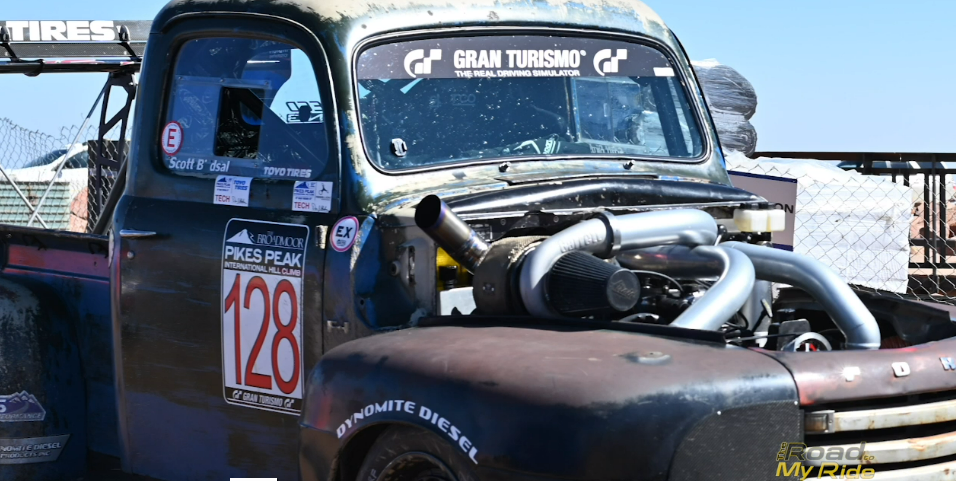 Dubbed "Old Smokey," the 1,400-horsepower truck is decked out in a faded black patina with hideaway headlines, and the original Ford grill and front emblem is emblazoned on its snoot.
"The delay on top helps us on the bottom because the bottom is warmer. I can make up the time on the bottom," Birdsall says. "Practice went really good. Our practices for tire testing show that we have a chance to beat the diesel record."
Uwe Nittel, driving a 2016 Mercedes Benz C300 d 4 MATIC, set the previous record in 2015 with a time of 11:37.149. Birdsall would go on to win the record in 2020 with a time of 11:24.065.
Before Birdsall guns his Ford up the mountain as the first racer of the day, Romie Gallardo, mother of Pikes Peak International Hill Climb champion the late motorcycle racer Carlin Dunne, waves the green flag to send him off in an emotional tribute to her son.
After Birdsall speeds away, competitors line up on by one, throttling their engines until the green flag rips up and down in front of them.
As they launch down the starting stretch and begin their journey to the summit, exhaust screams build into a wild, mechanical cacophony before mushrooming away through the thick timberland.
The race up America's Mountain is finally underway.
KING OF THE MOUNTAIN
In a racer that looks part giant go-kart, part beefed-up Indy car, Colorado Springs native Clint Vahsholtz scurried up to the peak with a time better than anyone else during the 98th running at Pikes Peak. Not only that, the man who has 23 division and class wins on the mountain set a new record in the Open Wheel division.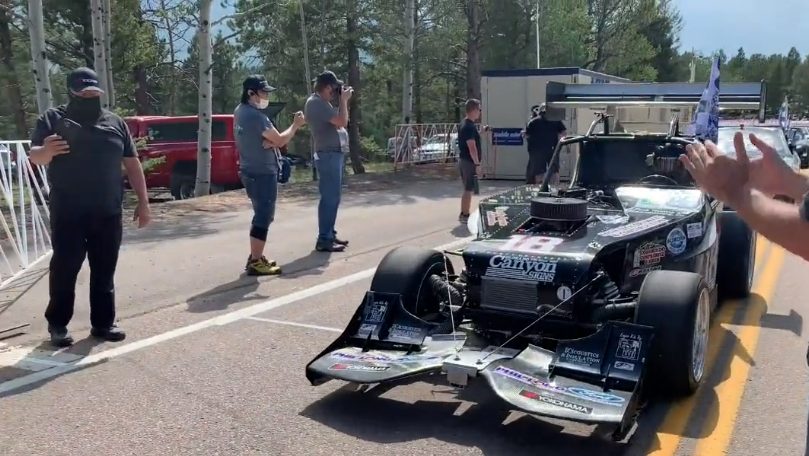 Vahsholtz bested his previous Open Wheel record set in 2017 with a new record time of 9:35.490 set in the same racecar, a 2013 Ford Open. Vahsholtz is the first American to be crowned King of the Mountain since David Donner in 2005, according to race officials.
"I wasn't as fast as I've been on the lower section," Vahsholtz told Lisa Haight, Pikes Peak event coordinator, "so on the middle and upper sections I just went 100 percent."
Blake Fuller claimed the Exhibition Division title in his Tesla Model 3 and set a new Electric Production vehicle record of 11:02.802, improving on his former record set in 2016.
Fuller's day did not start as planned, though.
A battery issue had him and his team scrambling for at least an hour in hopes that he would have enough power to set the record, which, he said, was his goal at the outset.
Before a scrum of media members about a half-hour before race time, Fuller says that he "thought we would have a green flag at 7:30 a.m., and as time goes on, we have to run the battery and stay ready to go. We are at 94, 93 percent. Is it enough to get us up? Yes. Is it enough to break the record? Maybe not. The challenge is that the battery, as the state of charge drops, it suddenly has to provide more current verses voltage, so it's working harder."
Randy Pobst, who finished just two seconds behind Fuller, garnered second place in the division in his Tesla.
Pobst told The Road to My Ride after the race that "This car is very special. It has Unplugged Performance's full Ascension R body kit and suspension. We set a record for an electric car at WeatherTech Raceway Laguna Seca and then we came here to Pikes Peak and qualified first. But, the next day during practice I went too fast with the tires still cold and I lost it —a real rookie mistake.
"The car got loose, I banged the wall and really, destroyed the car. But the team didn't give up. They said we're going up this mountain. We got hooked up with a local shop here, Eurocars, who have a team of trained Tesla technicians. The Unplugged Performance team and the Eurocars team got together and worked 48 hours straight, repairing broken body parts, changing out the complete suspension and drivetrain of this car with another Model 3 that was purchased by Unplugged Performance just for parts.
"So, we tested it at a local airstrip and it ran great. I took the green flag here and I'm running great, the car's good and then I noticed, something went wrong. It's my fault because I'm the one that wrecked the car; power output was cut down a lot. So, we finished the run at half power."
PORSCHE POWER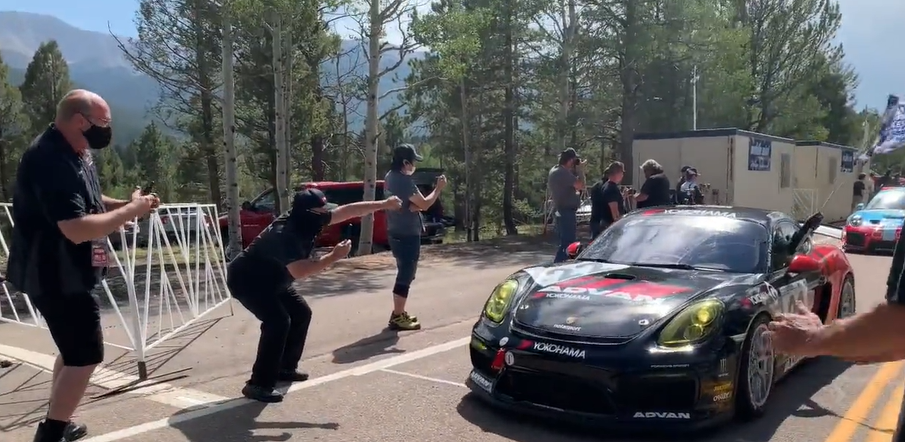 Originally, a group of eight of these German racers were slated to compete, but due to travel complications of COVID-19, the field was culled to four.
Blake "Bilko" Williams claimed the top spot among the entries in the Porsche category after bad weather caused him to run a shortened course in his first appearance on Pikes Peak in 2019. However, Williams, of Nitro Circus, with a time of 10:52.622, was still well off the record pace set by Travis Pastrana in 2018 at 10:33.897.
Colorado Springs resident George Hess III received second place, and Kathryn Mead, the only woman to enter the 98th running, not only garnered third place but was crowned 2020 Rookie of the Year. Mead's time of 11:36.345 was fastest of the eight rookies competing.
TIME ATTACK
Two Pikes Peak Hill Climb Hall of Fame members returned to racing on America's Mountain in 2020, both from Colorado and both driving Porsche racecars. At the wheel of the 000 Porsche GT2 RS Clubsport, David Donner took top honors in the Time Attack category with a time of 9:36.559. That is his best Pikes Peak time.
The eye-catching "art car" was a nod to the Rare Shades™ event series.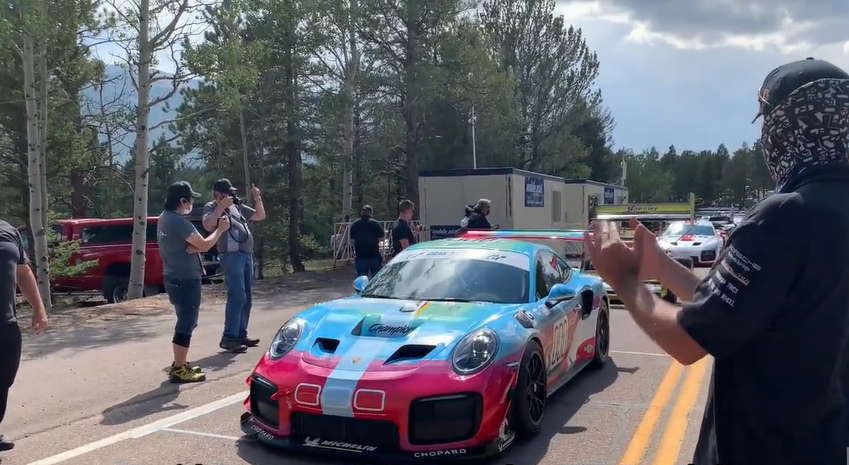 Jeff Zwart, eight-time Pikes Peak division winner, was behind the wheel of a 2019 Porsche 935 – one of only 77 produced. The No. 11 Porsche, sporting a retro Mobil 1™ Pegasus livery, finished second in 9:43.921.
Third place went to James Robinson driving a 2019 Acura NSX. Robinson held the record for a hybrid-fueled vehicle set in 2018 and improved on that time charting a new record of 10:01.913.
Donner, a seven-time Hill Climb Winner and three-time overall Hill Climb winner, told us that "We got this project up and running in less than three weeks. We pulled it together. We were lacking testing but we slowly got up to speed practicing this week and here we are winning. My grandfather was involved in the race in the 1940s, helping to get the race back on its feet after the Second World War. My father (Bobby Donner, Jr.) won it three times in a Porsche RS61 in the late 1950s and early 1960s."
OPEN DIVISION
A NASCAR-style Chevy SS, a Palatov D2tt and a 2001 Porsche 996 TT claimed the top three positions in the Open Division, respectively.
Layne Schranz won the division in his 2019 Chevy SS in 9:45.360. Schranz, like Vahsholtz and Donner, is a second-generation competitor at the event.
UNLIMITED DIVISION
A man well-known for his Formula Drift championships, Daijiro Yoshihara, piloted his Toyota 86 to the summit in 10:05.006 to win first place in the Unlimited Division.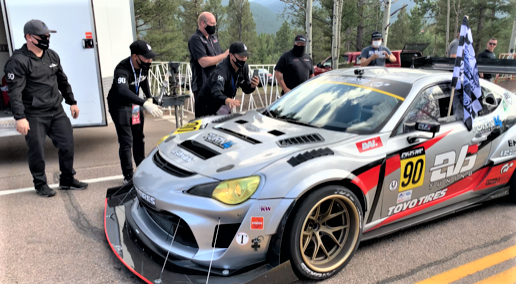 Derek Boyd finished second in his 2008 Mitsubishi Evo X in 10:11.446. Boyd occupied the top spot most of the day and looked like the winner until Yoshihara crossed the finish line knocking him down one step on the podium.
Third place was awarded to Kevin Wesley in the 2018 Dodge Challenger Hellcat for his finish time of 10:25.915.
Robb Holland, piloting the Bluewater Performance Audi S3, won the front-wheel drive record in 2016. The next year, an Acura driver took the record. In 2019, the effort to reclaim the record was thwarted when inclement weather forced Holland to abandon the effort in the Audi at the halfway point.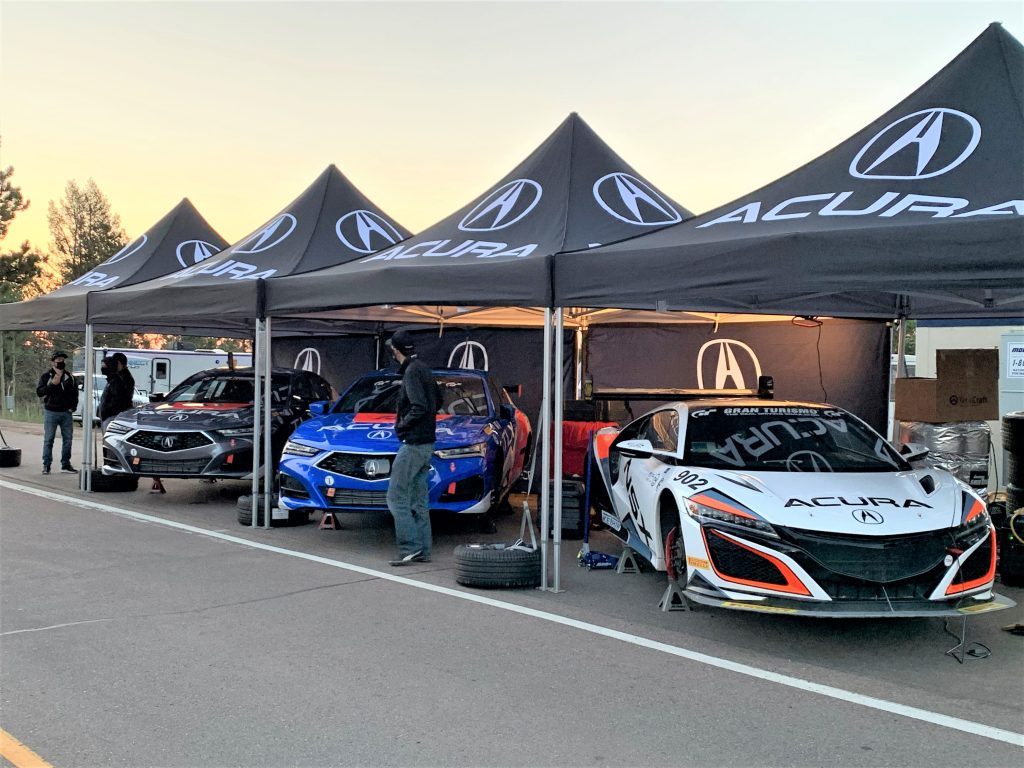 In 2020, Holland missed taking the record by 3 seconds.
"We were trying to go for the front-wheel drive record, I ended up with my best time ever of 10 minutes and 51 seconds, but that still fell a little over 2 seconds shy of the front-wheel drive record," he told The Road To My Ride.
"So, we're a bit disappointed, but at the same point and time it's Pikes Peak. Any time you can make it to the top of the hill here is a big accomplishment. So, I'm happy for all of the Bluewater guys who built a great car and we'll have to figure it out for next year. Somewhere up the hill we lost of a bit of time. The lower section was a bit slippery.
"In practice, we ran at 5 o'clock in the morning. The road surface is a lot cooler. Today, we're running later in the day and the temperature got into the mid-70s, almost 80, down at the start and the road temperature was a lot higher. With the front-wheel drive setup, you're depending upon the grip in the front tires for both turning and acceleration. If you lose a little bit, it's a knock-on effect; you've lost the grip for cornering, but you've also lost the grip for acceleration as well.
"So, it's kind of a double whammy, and that's unfortunate. I knew we had lost a little bit of time in the lower section, but I kind of stepped it up and pushed it a bit harder in the middle section, but it just wasn't quite enough at the top."
Three cars began but didn't finish the race. There were no injuries, however.
Failing to finish due to mechanical issues or crashes were David Schmidt and his 2014 Mustang, David Donohue in his 2019 Porsche Gt2 RS Clubsport and Rob Parsons in his Chevrolet SS.
PARADE OF CHAMPIONS
After the race, drivers slowly idle their way back down from the summit to a cheering crowd made up mostly of crew and family members who are waiting at the pit road area.
Many high fives and beer swigs are exchanged between crew members as the drivers rev their engines one final time.
As Yoshihara makes his way past team members during the parade, several men pound on top of his Toyota 86 to congratulate him on his big division win. Other drivers are greeted with in-car hugs when they slowly pass supporters.
A man who asked only to be called "Doc" ambles across the road after the parade and points back up toward the peak.
"It's haunted, you know?" Doc says. "There are spirits up there on that peak. I think they are the reason folks have died up there. I've spoken to many people like yourself who come here for the first time. I tell them all that they have to respect this mountain. It's alive, you know? And it's an honor to be a part of something like this race."
Doc is a short, skinny man with tattoos covering his entire torso and much of his lower body. They tell the story of the mountain's history and the race, and he's proud to show them off.
"I'm working on a book about ghosts and legends of this mountain. The race is only part of the story."
As Doc walks away toward the racing team he works for, dozens of trailers and cars begin their journey away from pit road to the bottom of the mountain.
The 98th Pikes Peak International Hill Climb now belongs to history.