Hoonipigasus highlights
Built by BBi Autosport in conjunction with Hoonigan and Hoonigan Racing Division, the never-before-seen 1400hp, AWD, Porsche SVRSR "Hoonipigasus" was designed specifically for the 2022 Pikes Peak International Hill Climb.
Intended as the world's ultimate Porsche racecar build, Hoonipigasus features an all-new livery created by renowned artist Trouble Andrew, a.k.a. Guccighost, paying homage to the famous 1971 Porsche 917/20 "Pink Pig."
PARK CITY, Utah — Ken Block and Hoonigan Racing Division have unveiled their next "Hoonicorn": a one-of-a-kind, mid-engine, 1400hp, Porsche SVRSR, dubbed the "Hoonipigasus" built by Pikes Peak winning Porsche experts, BBi Autosport in partnership with Mobil 1.
Hoonipigasus was built with the sole purpose of going fastest overall at the most iconic and legendary hill climb in the world, The Broadmoor Pikes Peak International Hill Climb, brought to you by Gran Turismo.
Block and Hoonigan teamed up with internationally acclaimed street artist Trouble Andrew (aka Guccighost, real name: Trevor Andrew) to launch an all-NEW and special livery on this masterpiece, along with a new and different livery on Block's current rally car, a Hyundai i20 WRC.
In addition, Mobil 1 was announced as the official motor oil of the vehicle and will be providing support for fuels and lubricants, working with Mobil 1's team of Formula 1 engineers.
As part of the official partnership, the Mobil 1 high-flying Pegasus trademark will be featured on the Hoonipigasus, which pays homage to the brand's icon in its name.
This is not Block's first pass up Pikes Peak. While Block has raced here in a lower-class Group N rally car, and piloted his 1,400hp, twin-turbo, methanol-fueled 1965 Ford Mustang Hoonicorn RTR V2 in 2017 as part of the "Climbkhana: Pikes Peak" film, this will be his first real go at the upper level of racing in the hill climb.
For 2022, however, Block, Hoonigan and BBi Autosport have built a machine to propel the Head Hoonigan in Charge (H.H.I.C.) to attempt overall victory, creating the first-ever mid-engine, AWD, twin-turbo vintage Porsche 911.
Hoonipigasus was specifically built to suit Block's driving style and features a transmission tunnel, known as the "Chorizo Tunnel," that goes from shoulder height down to the front axle, resulting in a lower center of gravity. Weighing just 1,000kg, the machine features GPS height-adjusted suspension based on previous year's telemetry. BBi has accumulated 8 podiums with 5 class wins at the PPIHC.
"The Pikes Peak Hill Climb is why I'm a rally driver," said Block, co-founder of Hoonigan.
"The list of drivers who have raced and won this hill climb includes many of my heroes: Walter Rohrl, Ari Vatanen, Michèle Mouton, Sébastien Loeb and Rod Millen to name a few. I've always wanted the chance to race Pikes Peak and compete for an overall win. With our team and BBi Autosport creating this amazing Porsche, we've got a good shot at that win, and with Trevor's wild livery, inspired by one of the most famous Porsches in history, we'll be hard to miss. I'm stoked to be a part of this iconic race and totally up for the challenge to add my name to those that have gone the fastest overall in the most technically challenging hill climb on the planet."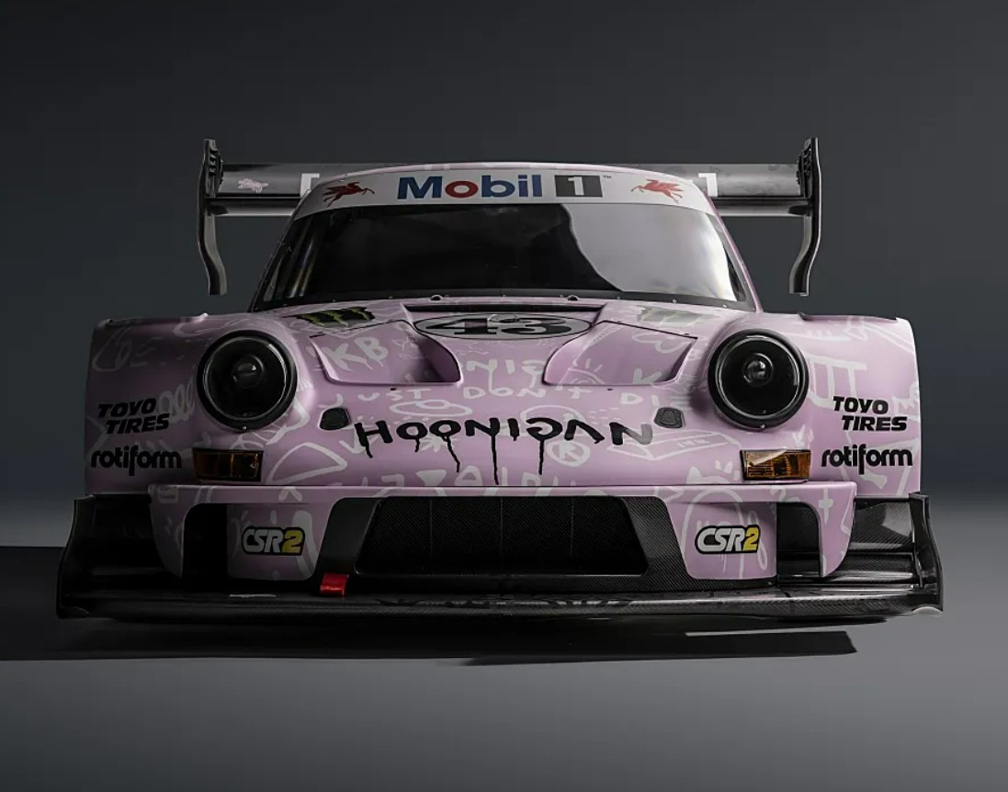 Hoonpigasus' creation was a decade in the making, beginning with BBi Autosport's desire to build the ultimate vintage Porsche racecar. BBi's most recent success at Pikes Peak was in 2021, when the team entered three cars in three different classes, taking home two class wins and one podium finish, a first in Pikes Peak history. But, in 2022, BBi Autosport is going all-in to take first overall with Block behind the wheel.
"The Hoonipigasus is an absolute dream-come-true type of build," said the founder of BBi Autosport, Betim Berisha.
"It doesn't get any more mental from a tech, power, aero, and visual standpoint. The original vision of the car came from a longtime friend of mine, Joe Scarbo of Scarbo Performance, nearly a decade ago. We then teamed up with our most talented engineers and designers, threw the book out, and took an unconventional path. We are building the world's nastiest 911."
Hoonigan is known for some of the most unique liveries in all of motorsports, and Hoonipigasus doesn't disappoint, thanks to a collaboration between Block and former Olympic snowboarder, singer and internationally acclaimed street artist Trouble (Trevor) Andrew, a.k.a. Guccighost.
The livery pays homage to one of the most iconic racing Porsches in history, the Porsche 917/20 "Pink Pig" that raced only once in that paint scheme but has been a crowd favorite ever since. Block, Hoonigan and Andrew have embarked upon a year-long partnership, which will include a Guccighost-inspired livery on all of Block's race cars in 2022, including his current rally car, a Hyundai i20 WRC.
"When Ken and the team at Hoonigan called, there was no doubt in my mind that I wanted to team up to create something unique and memorable," Andrew said.
"Reimagining iconic imagery and taking it in new, creative directions drives me, and in many ways my design parallels what Hoonigan and BBi have done with the car. This collaboration allows me to combine two things I love, art and competition, and for me, there's no better partner for that journey than Ken Block."
The Pikes Peak International Hill Climb, also known as The Race to the Clouds, is an invitation-only automobile hill climb to the summit of Pikes Peak in Colorado.
This year's event, scheduled for Sunday, June 26, will mark the 100th Running of the PPIHC, which features a 12.42-mile course with 156 turns and an elevation gain of 4,725 feet, rising to the finish line at 14,115 feet above sea level.
About Hoonigan
Hoonigan is much more than a brand. It's an automotive subculture, fueled on the shared passion of going fast and breaking things… then rebuilding them better than before. The company's signature brand of vehicular savagery is on full display across their network of YouTube channels, serving daily content to a subscription base numbering in the millions. In addition to daily videos and social media content, Hoonigan has long been the production and marketing outfit behind Ken Block's award-winning series of viral videos such as Gymkhana, Climbkhana, and Terrakhana. At the heart of it all, however, is a wide-ranging apparel collection that (along with an authentically automotive obsessed cast of characters) represents the brand's core ethos: Having fun with cars.
About Ken Block
Ken Block 's rally career began in 2005. His skill and car control became quickly apparent and Block aptly nabbed Rookie of the Year that season in the Rally America Championship. Since then, Block has also won 25+ national level rallies around the globe, scored points in the WRC, and accumulated five X Games medals… including winning silver on three wheels at X Games in LA in 2012 (behind 9-time WRC champ Sébastien Loeb). In addition to his performance in the car, Block has been a driving force in shedding light on the sport of rally within the United States. His keen branding and marketing acumen, combined with his talents and skills behind the wheel, have also allowed Block to achieve global fame as a rally driver through his wildly successful Gymkhana series of videos – a franchise which has garnered over 600 million views on YouTube alone. Adding Climbkhana and Terrakhana to the franchises of videos in recent years, Block's media properties continue to bring in new fans.